Our Beer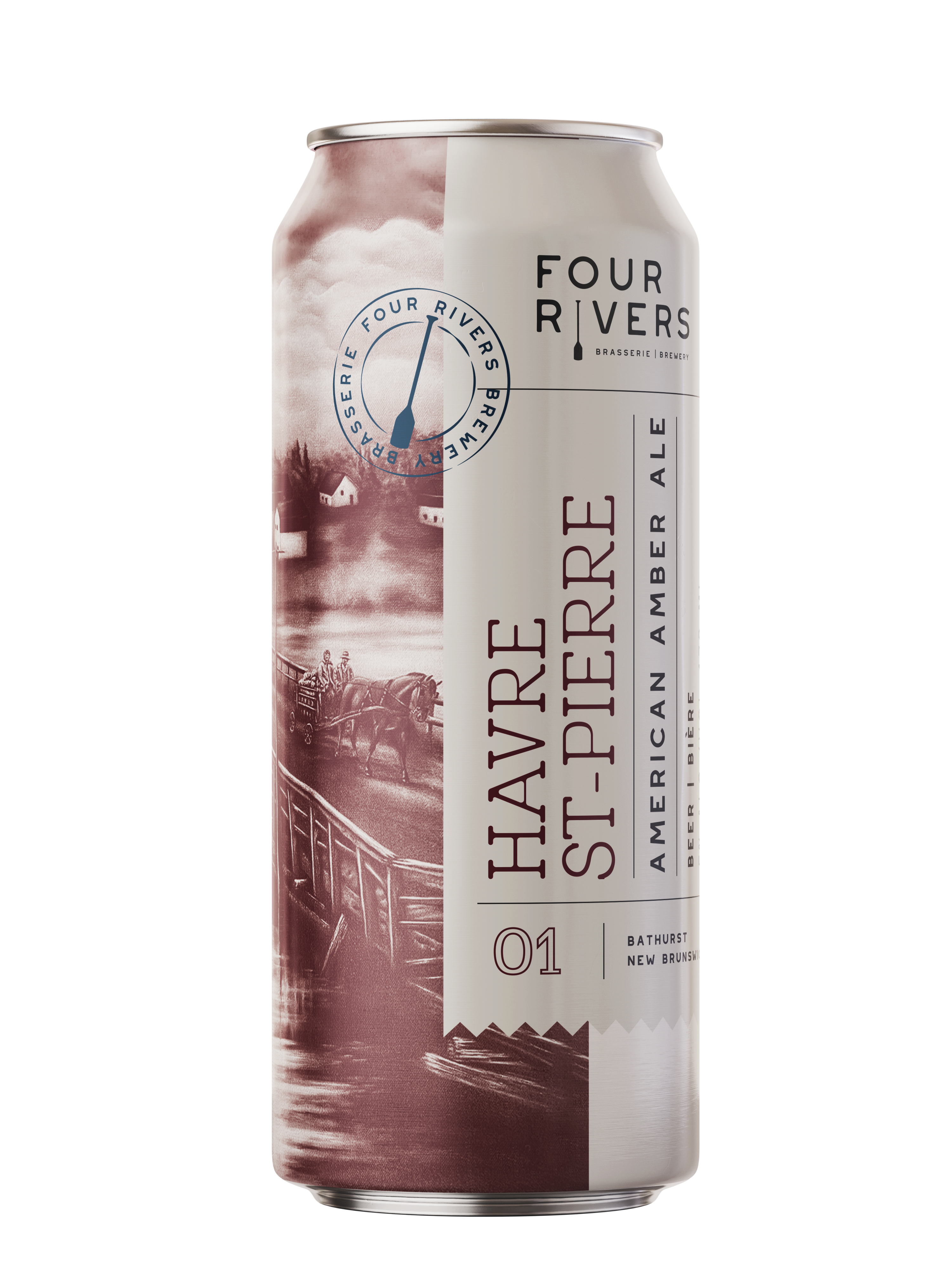 HAVRE ST-PIERRE
American Amber Ale
5% ALC.
22 IBU
12 SRM
Introducing our old faithful, our flagship brew – HSP. This sophisticated amber ale is produced with four different malts, and flows a deep, rich copper colour with a creamy, lasting head. Its full-bodied flavour is highlighted with notes of roasted nuts, dark caramel, toasted bread, and dried fruit. Cascade, a quintessential American hop, imparts a light citrus aroma to complement the malty qualities of this easy-drinking ale.

FOUR RIVERS IPA
India Pale Ale
6% ALC.
45 IBU
7 SRM
Our version of the ever-popular IPA, this strong ale is perfect for hop lovers. It pours a light shade of amber, topped with a thick white head. The Four Rivers IPA is a robust, medium-bodied ale that balances its moderate bitterness with the bright, intense flavours of three special hop varieties. That unmistakable hit to our olfactory senses that makes IPAs famous? These hops are the guilty culprits, giving us a distinct and potent fragrance of citrus, pineapple and tropical fruit. Add to this showstopping aroma a crisp, understated malt flavour, and we've got ourselves a new favourite beer.
NOR'EASTER
American Pale Ale
5% ALC.
29 IBU
5.5 SRM
Our interpretation of a classic, Nor'easter comes in big and bold like its namesake with an impressive golden blonde hue, and a lacy white head. This APA has a crisp dry flavour with a hint of sweetness, perfectly balanced by its distinctly bitter hops. Aromas of citrus, mango, and passionfruit from the prized Mosaic hop give this one its unmistakeable signature fragrance.
MULLIGAN
Golden Ale
5% ALC.
16 IBU
4 SRM
Get ready to crush a few Mulligans on the links! Our golden ale is clean, light bodied, and of course, it's a beautiful shade of gold. The floral aroma comes from centuries-old noble hop varieties, and is balanced out by delicate flavours of sweet, biscuity malt. This subtle combination is what makes our Mulligan Golden Ale a decidedly easy drinker, a truly crisp and refreshing beverage. In a word, it's crushable. This straight-shooting brew is not here to judge – so go ahead. Take that Mulligan.
FLÜSSE
Helles Lager
5% ALC.
20 IBU
4 SRM
Flüsse (the German word for 'rivers') is a brew that lives up to its name – it flows down easy, and it's perfect for a hot summer day. The light straw-coloured hue of our Helles Lager will appeal to seasoned craft beer enthusiasts, as well as those new to this style. Its delicate cereal aroma is complemented by subtle notes of sulfur, which are characteristic of traditional lager yeasts. The mild bitterness lends itself to a refreshingly crisp profile, harmonized by flavours of both Canadian and German malts.  Flüsse is a clean and simple beer – ready to be enjoyed by the campfire, after a hard skate, or paired with a night of your favourite indulgent eats.
ROCKBOLTER
Black IPA
6.5% ALC.
39 IBU
28 SRM
Behold, our version of the ultra-modern elusive Black IPA. One of the first of its kind to be produced in the province, Rockbolter pours opaque black with a thick, tan head. Dark roasted malts impart notes of coffee, dark chocolate, toffee, and pumpernickel. These bold malt flavours are intensified by a heavy hand with Cascade and Mosaic hops, which give this strong brew an unexpectedly bright aroma of citrus and tropical fruit.
BOAR'S HEAD
Mild Ale
4.5% ALC.
20 IBU
22 SRM
Availability:
winter seasonal
Our Boar's Head mild ale is inspired by the malty and delicious ales traditionally brewed in Great Britain. This is a dark beer that light beer drinkers can get behind! It pours a light, barely translucent brown with a thick tan head. Its rich malt backbone, light chocolate caramel notes, and smooth roasted flavour make this brew extremely drinkable without sacrificing any of its complexity. Goes down easy with a perfect pairing of roast beef and mashed potatoes.
TIMBERSHIP
Milk Stout
5.5% ALC.
30 IBU
31 SRM
Availability:
winter seasonal
Timbership is an American style milk stout. What makes a milk stout special, you ask? The addition of lactose sugar! This extra step in the brewing process contributes to its delightfully sweet flavour profile. This beer pours very dark black with a creamy light brown head. It is clean and easy on the palate, with fragrant notes of fresh roasted coffee, caramel, and dark chocolate. The lactose sugar gives Timbership a beautiful full flavour as well as a velvety texture. Try it in our taproom to experience the full scope of its beauty with a spectacular nitrogen-fueled cascade on the pour.